I took this paragraph from her shops home page because there was no way any words I used could pay justice, "If candy and love make the world go round, here at
Made with Love
we're doing our part to keep it spinning! Whether in the form of gift baskets, cute chocolate suckers in an assortment of fantastic forms or through luscious golden toffees and creamy yet diabetic-friendly barks, Made with Love prides itself on creating sweets and lollies that taste even more heavenly than they look."
Another Shoppe that I got a sample from and just devoured on the spot before my kids came home from school. My youngest tried some and her eyes went soo wide I ran from her... lol.. Unfortunately she found me and I had to share but how delicious! I love chocolate and pretzels together, and it was decorated beautifully.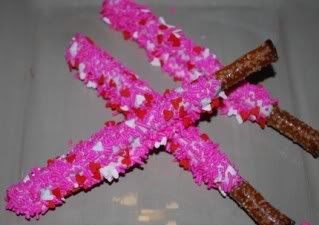 You should definitely go and visit this shoppe.